Koh Lanta transport options include speedboat transfer, minivan transfer and ferry transfer. View pricing, timetables and book online for your preferred transport option to Koh Lanta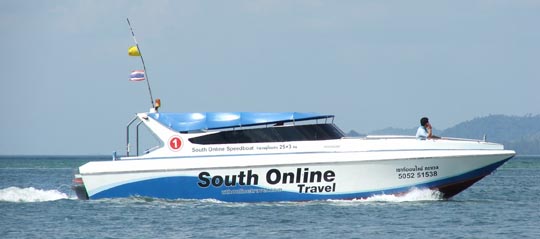 Koh Lanta Flights
There is no airport on Koh Lanta. Krabi Airport is the nearest airport to Koh Lanta. There are numerous daily flights from Bangkok to Krabi Airport. Compare Bangkok to Krabi flight times and prices on 12Go.
From Krabi Airport you can get a fast speedboat transfer or a private minivan transfer direct to your hotel on Koh Lanta.
Fast Speedboat Transfer to Koh Lanta
The fastest way to get to Koh Lanta is with a fast speedboat transfer. The transfer involves a 45 minute car journey and then a scenic 15 minute speedboat ride along Koh Lanta's beautiful coastline, followed by a transfer to your Koh Lanta hotel by car.
Express Transfers To Koh Lanta
Express Transfers Departing From Koh Lanta
Private Minivan Transfer To Koh Lanta
You can book a private minivan taxi transfer from Krabi Airport to Koh Lanta direct through AmazingLanta.com. Visit their Krabi Airport to Koh Lanta Transfer page for more information and to make your booking.
Private Minivan Transfers are available for all these destinations:
Taxi Transfers To Koh Lanta
Taxi Transfers Departing From Koh Lanta
Koh Lanta Ferries
You can book Koh Lanta ferry tickets online at Amazing Lanta – follow the links below for timetables, prices and to book online immediately
Ferries To Koh Lanta
Ferries Departing Koh Lanta
Follow the links above for times and pricing for ferries to Koh Lanta, all of which can be booked online.
Public Minivan Taxi to Koh Lanta
The cheaper option is to get a minivan taxi at Krabi airport, which seats up to 10 people and departs from the airport when the taxi is full. Backpacks or suitcases are stored inside the van and conditions can be very cramped.
Minivan taxi cost: 300 Baht per person.
To catch a minivan taxi, we strongly recommend you get an early flight from Bangkok to Krabi as the last departure for minivan taxis from Krabi Airport is around 1pm.
The journey time from Krabi Airport to Ban Saladan is between 2 to 3 hours. The time varies as there are car ferry crossings between the mainland and the islands. We recommend you bring water and snacks for the journey.
You can book tickets for the public minivan online at 12Go.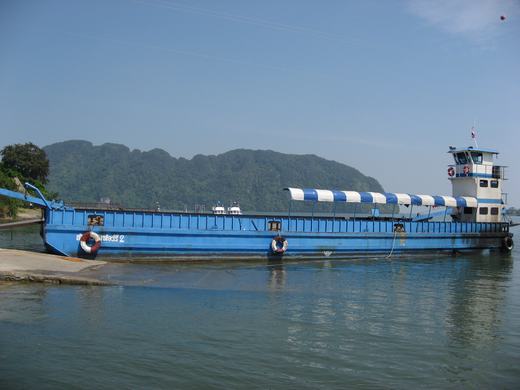 How To Get To Koh Lanta From Other Places In Thailand
If you are travelling around Thailand, here's some detailed info on how to get from other popular areas of Thailand to Koh Lanta
Koh Lanta Location
View Koh Lanta's location on our map of Southern Thailand, showing the location of all major tourist areas.